Arsene Wenger's future as manager of Arsenal has never been more in doubt. Throughout his reign he has often found his future plagued by uncertainty but, now, it seems he could really be leaving Arsenal after 21 years in charge.
The Frenchman was appointed as manager of Arsenal in 1996 and in his reign as manager has delivered 14 trophies only failing to qualify for the Champions League once. However, the Gunners have not lifted the Premier League trophy since 'the Invincibles' in the 2003-04 campaign and this has proven to cause constant discontent among Arsenal fans.
This discontent and unhappiness is very much underpinned by their nine-year trophy drought, which coincided with the club's relocation to the Emirates Stadium. Wenger did manage to break his trophy hoodoo with back-to-back FA Cups in 2014 and 2015 but two FA Cups and a raft of top-four finishes four have not satisfied the Gunners' thirst for success.
Following the humiliating 3-1 defeat to Chelsea and Bayern Munich's rampant 5-1 victory, calls for Wenger's departure have never been so widespread and it seems Arsenal fans may just get their wish. The 67-year-old confirmed few days ago he would be managing next season, but seemed dubious whether or not it will be at the Emirates.
With Wenger's future up in the air we look at five potential places the 67-year-old could find himself next season:
Barcelona
Despite struggling for trophies in the last decade, Wenger's capabilities are, of course, still well-considered. He is still a name that would be considered for huge jobs and his link to the England vacancy once again after Sam Allardyce's controversial sacking is testament to that. The Frenchman's CV is still undeniable. He is the joint-most successful manager in FA Cup history, has three Premier League winners medals and constructed the only ever team in Premier League history to go a full season unbeaten. His current struggles don't erase that.
The recent issues surrounding his counterpart Luis Enrique could open the door to a short-term appointment in Catalonia. Both Barcelona and Arsenal face uphill tasks of clawing back a four-goal deficit in the Champions League and have both have fallen behind in the chase for domestic silverware.
Luis Enrique is widely expected to walk away at the end of the season and while Jorge Sampaoli and Ronald Koeman feature more obviously at the top of their shortlist, Wenger may appeal as a stop-gap until the next presidential election at the club and some more substantial restructuring within the Nou Camp.
Paris Saint-Germain
PSG have been long-term admirers of the Frenchman, while Wenger has not coached in his homeland for decades. He was appointed as manager of Nancy-Lorraine in 1984 where he spent three seasons before joining Monaco. Wenger spent his whole professional playing career in France and managed there for ten seasons. The 67-year-old would only make sense to a club looking for instant success, rather than a rebuild, and Paris Saint-Germain could be a perfect match.
Unai Emery, a serial Europa League winner with Sevilla, had no experience of French football and his £21million signing Jese Rodriguez couldn't adapt to Ligue 1 football and has since been shipped out to Las Palmas. Emery, 45, had been facing the same difficulties.
PSG have dominated Ligue 1, winning the title by 31, eight, nine and 12 points in the last four seasons. This season, Emery's side have struggled against the resurgence of Monaco and Nice and they currently sit second in the league. If Emery fails to deliver what has proven to be a routine trophy for them, he may well face the axe and if PSG's board are looking for experience in the French league, Wenger could be a front-runner.
Should Barcelona overhaul their Champions League deficit then the focus will all be on PSG's Spanish coach.
Monaco
A homecoming to the place where he made his name as a manager could be on the cards. Wenger provided the Monaco fans with some wonderful memories with a Ligue 1 win and a Coupe de France triumph during his first spell coaching in the principality.
Les Monégasques' have failed to win Ligue 1 since the 1999-2000 season. But with their young, exciting squad making some noise the good times seem to be rolling back. They're currently top of Ligue 1 and with 18-year-old Kylian Mbappe dubbed as the next Thierry Henry; Wenger could be the perfect man to develop the sensation.
Should current boss Leonardo Jardim be poached in the summer, Wenger may make all the sense in the world.
France
The 67-year-old has never managed a national side but has often been shortlisted for the French job. Widely considered as France's most successful manager, it would appear Wenger's appointment as manager of France would be an ideal wind-down to his top-level coaching career. 
France have not won a major national trophy since the European Championship win in Belgium and Holland in 2000. They came agonisingly close to repeating that feat in their home Championships last year but fell short to an extra-time strike from Portugal's Eder.
Didier Deschamps is their current manager, and the prospect of him walking out a year ahead of the 2018 World Cup still feels very unlikely – unfortunately for Wenger.
Chinese Super League
One of the fastest-growing leagues in the world, the Chinese Super League seems to be attracting the reputable names. Former England manager Sven-Goran Eriksson was lured out to China as well as former Brazilian national manager and Chelsea manager Luiz Felipe Scolari.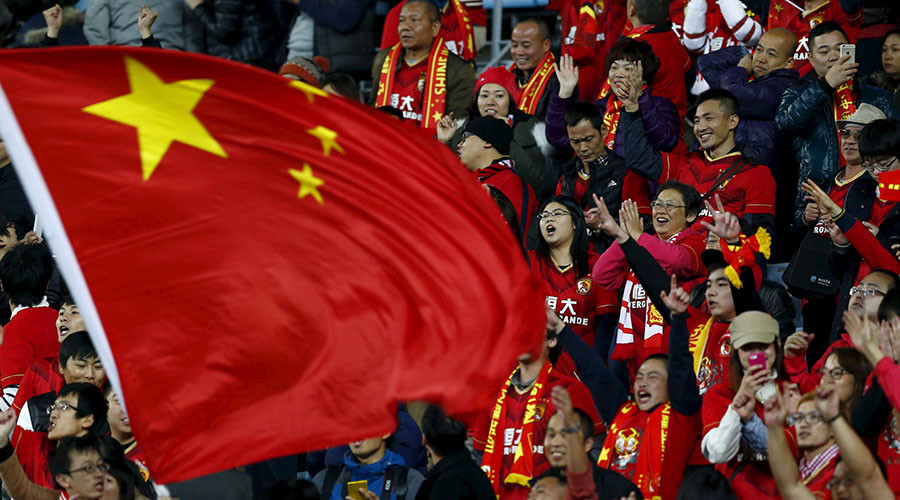 But sources close to Wenger rule out such a switch, claiming the Frenchman has no desire to join the circus surrounding the CSL. Money, and lots of it, would have to sway him.